This is a great book. easy to read and a real page turner. I read it in a few hours as I could not put it down  ***** Amazon reader
Quite witty and an easy read **** Amazon reader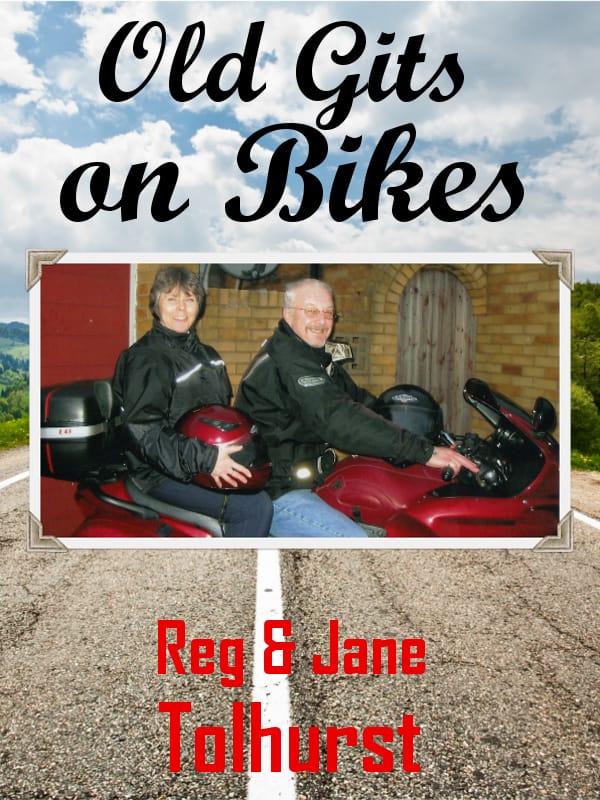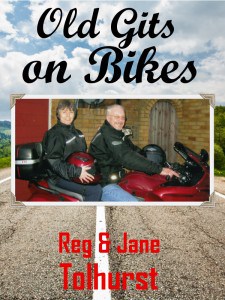 In May 2005, Reg and Jane Tolhurst from Whitstable, Kent, in the UK, set off on an adventure. Their goal was to motorbike around 20 European countries in 60 days. Their aim was to raise money for Cancer Research and Canterbury Pilgrims Hospital.
This is their story.
You can buy the book for Kindle, here, but for now, why not read the opening two chapters…
Chapter One / Reg
"We're motor biking round 20 European countries in 60 days," I said.
The American tourists looked at me. Some of them looked impressed. Others looked as if they thought we were mad. I smiled and nodded, feeling a mild sense of panic.
I said to myself, Jesus, am I? Am I really going to bike round 20 countries in 60 days?
It wasn't until that moment, when I spoke the words out loud, that the trip became real. And more than a little bit daunting. But we couldn't back out. Jane and I were on the ferry en route to France and our bike, packed to the gunnels with clothes, loo roll and maps, was tied down on the lower deck.
The American tourists had been attracted by our fluorescent yellow vests. Old Gits On Bikes, the writing on the back said.
But Jane wasn't an old git. In fact, she wasn't even my original companion for the trip. Terry was. But Terry dropped out.
It all began in autumn 1998 when my wife, Maureen, died of bowel cancer. We'd been very happily married for 32 years and it was a bloody horrible shock, especially as she had not long been given the all clear for lymphoma. A few months after Maureen died, my old school friend, Terry, got in touch. We'd shared many milestones in each other's lives, enjoying each other's weddings, being godparents to each other's children. And now we were in the same boat again. Terry's wife had also died. We met up for a few beers and were both pretty depressed.
"Let's get away somewhere," I said to him. I wanted to lose myself.
"Yeah, let's do that," he said. "Let's go down to South America or something."
"Perhaps we could hire a couple of motorbikes."
We'd had bikes as lads, so Terry was up for that.
I told a few people about our plan. Then a relative of my son's wife, who had just come back from Chile, told me that if he hadn't had to go there for work, he wouldn't go there at all. He felt South America wasn't safe for what we wanted to do.
Someone else suggested Lithuania. They told me that the scenery and roads were very similar to those in Brazil. But what did we know? We'd never been to either.
If I'm going all the way to Lithuania, I might as well make that the trip, I thought.
Terry and I made slow plans. We decided we could raise some money for charity as we went. There was a lot of organising to be done. I took on the lion's share.
"You're better at sorting stuff out than I am," Terry said.
We went to a bike show at the Kent Showground. A guy showed us a Honda Deauville NT650V and recommended it for our trip. I liked the look of it but I continued my search, enjoying seeing what was about.
I went to The Bike Shop in Faversham. I didn't know that a family friend, Paul, was working there. It was good to see him. I decided that I would take the Honda Deauville and told him about the trip.
"It's for charity, Paul, any chance of a discount?" I said.
Paul gave me £500 off. I was dead chuffed and very grateful. I called Terry. He'd bought the same bike so now we had a plan and two Honda Deauville NT650Vs. Perfect for two Old Gits On Bikes, which is what we'd decided to call ourselves following a comment from our friend Paul who created our website.
But of course, I hadn't ridden for forty years.
Motorbikes had changed in four decades. My original bike was half the size and half the weight of the Deauville. My little legs were on tip-toe on this big machine.
I decided to go on a one-day motorcycle refresher course and at the time, The Bike Shop ran a rider training centre at Dargate, just outside Whitstable.
When I called up to book the course the man asked me what motorbike I had.
"A Honda Deauville NT650V." I said.
"Is that new?"
"Yeah, I've just bought it."
"What did you have before that?"
"A Triumph Tiger 100."
"A classic?"
"Well, no, it was relatively new when I bought it."
"When was the last time you rode then?"
"About 1960."
"Ah."
We rode down to Hythe. As we sped down Stone Street with the wind doing its best to push us off the road, I did wonder if I fancied the trip at all. I was holding on to the old belief that if I hit the brakes the bike would slide out from under me. I needed to learn to trust the forty years of progress I was now riding. But it would take time. I'd lost my confidence.
"You need time in the saddle," the instructor told me. "And I'll give you one piece of advice, anticipation is the main thing. If you can just keep thinking ahead, you'll save yourself a lot of problems. Take it steady and good luck."
Planning the trip became a way for me to not fall to pieces. After Maureen's death, I felt guilty. I felt there was more I should have done, that I should have noticed something sooner or given Maureen better advice. I felt frustrated that I hadn't been able to make her better and the trip became a way of controlling my life.
I came up with a route. It had been quite easy to work out. It was just a matter of looking at the map, hopping from place to place, making a mark and joining the dots. I was very conscious that we needed to keep with the good weather and decided we would go clockwise around Europe, otherwise we would be too cold in Scandinavia at the end of winter and too warm in Turkey during the summer.
Then a friend suggested we go anti-clockwise instead. That way the journey would start warm and by the time we got to northern Europe it would have warmed up there too.Why didn't I think of that? I wondered. So we reversed the route, the hope being that the weather would be pretty much the same all the way around.
Terry and I decided to set off in May 2002. The route was to be England, France, Switzerland, Lichtenstein, Italy, Greece, Turkey, Bulgaria, Romania, Hungary, Slovakia, Poland, Lithuania, Latvia, Estonia, Finland, Sweden, Denmark, Germany, Holland, Belgium and home. A journey of some 6,000 miles.
We went to Tunbridge Wells to be interviewed on BBC Radio Kent about the trip. We did some local press and our website went live. We wanted to raise as much money and awareness as possible.
Then, shortly before we were due to go, I had a minor stroke and the doctor told me I should wait a while. Because May was the optimum window weather-wise, I thought we would have to leave the trip for another year. In June, Terry suggested we go away just for a couple of weeks and we went down to Spain.
I was looking forward to spending time with Terry. He was always such a laugh and full of charm. One of his characteristics is to give people nicknames. Terry himself has one, Gingerbread Boy, due to his ginger hair. The name's now been shortened to Bread Boy or just Bread. I became Reg McGroo, which was shortened to Groo.
But as we drove over the Pyrenees through Andorra, I could tell that Terry wasn't happy.
"Look at that ledge, Groo," he said. "If we go over that, we're finished. That drop goes down for miles."
"We won't go over," I said. "If we were driving through the streets, we wouldn't ride into someone's front garden, so there's no reason why we'll go off the ledge."
But Terry was nervous. I was nervous too. But I encouraged him on and we decided that we'd go home along the eastern coast instead.
I started wondering what we'd do if we got so far on our adventure and Terry decided he'd had enough. I knew that I would go on alone. All that mattered to me, in my mind, was finishing the trip.
I realised then that Terry wasn't going to do the trip. He'd also met a lady, Martha, who is now his second wife. I sensed that he wouldn't want to be apart from her for long. I understood.
I was still determined though. I'd told loads of people what I was going to do. I'd also started collecting sponsor money so I'd painted myself into a bit of a corner.
My mate Garth said, "I bet you don't even get out of Dover."
"Really? How much do you want to bet?" I asked him. He was caught and had to cough up £25.
I started advertising on the Internet for someone to come with me. A lot of time-wasters got in touch. People fancied the idea, but couldn't commit.
I'd also met a lady by this stage. I'd known Jane Hicks for a long time. Our paths had crossed several times over the years, and then at a New Year's Eve party in 2002, we found ourselves the only two single people at a party. I think someone was playing Cupid.
Jane and I got on brilliantly. She even came on the motorbike. It was her first time.
We went to Normandy for a few days.
I knew Jane was good passenger when, after we got home, I said to her, "Crikey, that traffic on the M2 was a bit crazy wasn't it?"
"Oh, was it?" she said. "I fell asleep."
Eventually, after getting frustrated with the time-wasters on the Internet, I said to Jane, "That's it. I'm going on my own."
"You can't do that," she said. "I'll never see you again. I'll come with you."
"But you've barely been on the back of the bike," I said.
"Well, you've not ridden for 40 years so we'll make an ideal couple," she replied.
Chapter Two / Jane
"You're very brave."
"This is completely out of character."
"Are you sure?"
My family reacted with disbelief when I told them what I was planning. I'd never been on the back of the bike before and the trip was going to involve a lot of unknowns. I am not a fan of unknowns. I am always prepared and pride myself on my organisational skills, which wouldn't be called into practise as – what with all the unknowns – there was very little to organise.
What I did know was that Reg wanted to go and it was for a good cause. I felt that at some point I was going to have to do something adventurous with my life and it might as well be now.
However, there was only so much adventure I was willing to take. Reg and Terry had planned to camp as they went along and had bought a tent. I stipulated that I'd go, but I'd need a bed and a toilet each night. Fortunately, with me coming along there wasn't room for the tent on the bike anyway. It was literally a case of me or the tent.
I think Reg was relieved. He and Terry had camped in Spain but only for one night – the night that Terry revealed he'd never put a tent up in his life and stood there drinking tea while watching some French blokes do it for him.
Building up to the trip was fine. I worked as a pharmacist in Boots, Herne Bay. They let me take a sabbatical.
We asked Maureen's sister, Edna, and her husband, Neil, to look after the house and the cats. I wrote, dated and stamped all the birthday cards that would need sending while we were away. I set up direct debits for our bills and postal voting for the upcoming election.
Reg had already started getting sponsorship money and I wanted to do my bit so I asked my customers. They were all interested in what I was doing and very generous. Boots said they would match every pound I raised up to a total value of £500.
I made what plans I could, such as deciding we would have to spend a night in each country and buy something to prove we had been there – such as a newspaper. We would send a postcard from each country to my mum, Doris Gray. Reg's eight-year-old granddaughter, Mae, and her class at school would be the other recipient.
Then there was the packing. This was minimal as there wasn't a lot of space on the bike so it needed to be thought about carefully.
We had the panniers – compartments built in to the sides of the bike. These needed to be balanced so the bike didn't tip to one side. In there we put shoes, bottles of water, spare toilet roll (essential) and medicines – my speciality given my job. Reg joked that his medicines alone took up one pannier.
There was a 60-litre back box on the bike. We put our clothes in there. And finally there was an expanding bag, which sat on the tank in front of Reg. He said he could almost rest his chin on it, but it wasn't that bad.
The tank bag was the vital one as we had our documents in there. It was detachable so if we got off to go for a coffee or a walk, we could take it with us. Not that it would be easy doing much sightseeing carrying the tank bag, our crash helmets and wearing our motorbike gear. The other bags were locked on.
We had a helmet-to-helmet intercom so that we could talk to each other while we were riding. It was hardwired into the bike with a wire attached to our helmets. We each had a microphone which we had to keep close to our mouths. Originally, someone who had seen the website offered Reg one, which we gratefully accepted. But unfortunately we couldn't hear each other over 30mph, so we had to buy a more expensive piece of equipment.
We had a phone charger built into the bike and planned to ring home each day to let people know where we were and that we were safe. If family needed us they were to call our home and leave a message with our house sitters. It was reassuring to know that someone was in the house.
We even packed a length of washing line so that we could hand wash and dry our clothes. We hoped we had thought of everything.
Security was a concern. There were some countries that I was very nervous about visiting, especially Romania. We'd never been there and didn't know anyone else that had been either. We decided we would take precautions and wear money belts, with each of us carrying a share of our cash and bank cards.
We had duplicate documents in the back box and had scanned in and emailed our passports to ourselves. Reg took the plastic covers off the crash bars and taped a couple of hundred dollar bills in there. He'd heard that you can get by pretty much anywhere with American money, so decided that if we were robbed of all our personal possessions, the dollars would get us by.
Unlike other people who have undertaken trips like this, we would be totally alone. There was no 4×4 vehicle following with supplies, no film crew for moral support. We were doing this without a net.
There were lots of unknowns and my family was right – I was definitely being brave.
Contact Your Memoir if you would like to buy this book in paperback.