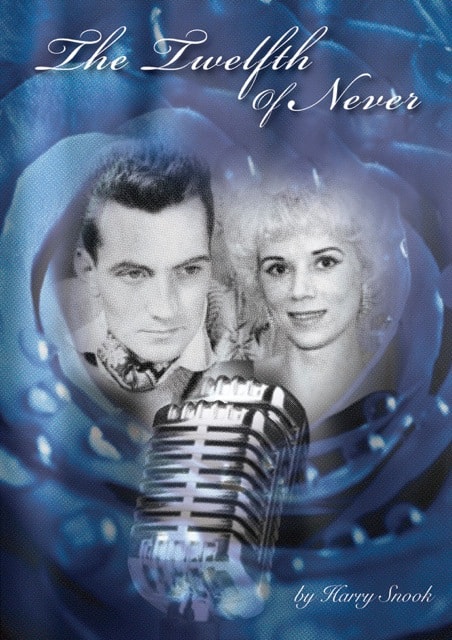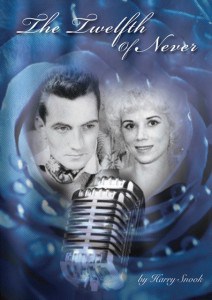 In 1963 Harry Snook walked into the Spotted Cow pub in Lewisham. It was an open mic night and Harry loved to sing. He drank his pint of light and bitter and sang a Frank Sinatra song. A week later he returned and sang The Twelfth Of Never by Johnny Mathis. He received a standing ovation and looking around the room, a face caught Harry's eye.
Blonde, with big, blue eyes, high cheek bones which were ever so slightly flushed, possibly with make-up. It was the most beautiful face he had ever seen. The blonde was called Pat. The Twelfth Of Never is Harry and Pat's love story. The book is available on Amazon for Kindle, here. Now read the opening chapter…
Chapter One
Where do I begin? It sounds like the opening line of a song, which it is. The song is Love Story, which is what I am going to tell you now. A love story that lasted almost 32 years. So, where do I begin? At the beginning I suppose.
In 1963, I'd been married to Lilian known as Lil for nine years. We had three daughters, Carol, Susan and Maria, and another baby on the way. I hoped very much that this fourth child was going to be the son I dearly wanted.
Although Lilian and I had nearly four children, our marriage wasn't what you'd call happy.
In those days you got married, moved in with your in-laws and put your name on the council list. You had a couple of kids and got a council flat or house if you were lucky. Lil and I had lived briefly with her mum. After that my employer's Scudamore's (I was a carpenter and joiner) rented us one of their flats in Benin Street, Hither Green, Lewisham. Lil and I's next three children were born there.
Not long after Lil and I were married, I got into a habit of going out on my own, for a bit of a break. Lil didn't want to go boozing, as she called it.
There was a pub called the King and Queen in Mottingham and I'd heard there were plenty of women who went in there, who were described as "just crying out for it." This information I had gleaned from two blokes at work.
So I went along and right enough, the women were up for it. Within minutes of arriving, I was stood at the bar when a girl who couldn't have been more than 17, came up to me and said, "Fancy buying me a drink?" I bought her a drink and that was the start of my philandering.
I suppose, without making excuses, I wanted to prove to myself that I was normal and that it was Lil, who wasn't. We had been happy of course. We'd met in 1953 and when we got married the following year I couldn't believe my luck. When we were courting, I hadn't even looked at another woman. It wasn't the done thing to have sex before marriage so when it came to the wedding night, I expected her to be as keen as I was. We did it the first night, the second night, but when it came to the third night she said, "You're not doing this every night." And after that, we rarely did.
I liked to sing in those days. Every other pub had a live group consisting of a piano, drums and a microphone up for grabs. I could sing in a different pub every night of the week if I wanted to. I was never the most handsome bloke or the tallest but I could sing. I'd been doing so from the age of 10 and I enjoyed the attention. I wanted to be liked and when I sang, I felt that people liked me.
Lil didn't like my singing and didn't like me practising at home either. She really dampened my spirits and wouldn't come out with me. When we lived with her mum, (she'd just hired a telly) Lil would say, "I'll sit in with Mum and watch the telly."
So I went out and sang. This gave me renewed confidence and also satisfied my sexual needs. There was always at least one woman in the audience who fancied me and I took full advantage. I didn't care whether she was married or single. My motto was 'Who am I to deny a lady half an hour's pleasure if she fancies me?"
By 1963, I had palled up with a bloke called Johnny Donovan from the Black Bull pub. Known as Little Johnny, he wasn't the smartest of dressers, didn't exactly have lady-killing looks and was about nine years older than me, so really we didn't have a lot in common. But Johnny was loyal to me and, crucially, had a flat where I could service the women I was meeting. Johnny gave me a key so I could go in and out as I liked, so to speak.
One weekend, Johnny said to me, "What do you think about going to a different pub this weekend?"
"Where do you have in mind?" I asked. "I'm fed up with the Swiss Cottage. The Black Bull isn't all that, except at weekends and we're barred from the Fellowship Inn since I complained about the beer being flat."
"I've heard they've got a good band at the Spotted Cow."
I nearly spat my drink out.
"The Spotted Cow? That's a poxy dominoes and cards pub. I'll fall asleep within half an hour in there."
"Not anymore," said Johnny. "Paul, the compere from the Swiss Cottage is working there. And that blonde you fancy from the Alfred goes there too."
Johnny had me tempted.
"Okay. But if it's no good, we're leaving," I said.
I'd been in the Spotted Cow five years previously when, while out walking my dog, I'd popped in for a quick one. That was the sort of pub I thought it was –
good for a swift half and nothing else. And it was too close to home for my liking. If I was going to play away, I needed to play far away.
I picked Johnny up and we got to the Spotted Cow at about 8.15pm. We walked through the saloon bar, into the concert hall area, which I was surprised to see nearly full.
Paul the compere was already singing. He nodded at me as I walked in but despite a welcome from him, I didn't feel comfortable. There were too many people I knew and too many people who knew Lil.
I went to the bar while Johnny found some seats. He knew I liked to sit near the stage so that when I was called up to sing, I didn't have to push through a load of drinkers. I found that the longer it took for the singer to get to the stage, the longer it took the audience to settle down. They'd start talking among themselves and sometimes right through your song.
I bought Johnny and I a pint of light and bitter each and made my way to the table he'd found.
I'd never sang with the band at the Spotted Cow before and I didn't feel confident that they'd know what key I wanted to sing in or anything else. But I decided to go for it and sang a Frank Sinatra song, All The Way. I got a reasonable reception. It wasn't that I was a particular Sinatra fan, I just happened to see the sheet music there.
My favourite singer was Johnny Mathis. I sang most of his songs. In fact, if he brought out a new song one week, I would buy the record and know it word-for-word and note-for-note by the following week.
A while later, I said to the pianist, "Do you know any Johnny Mathis numbers?"
"What do you want?"
"The Twelfth Of Never. E flat."
It was the first time I had sung that song in public. I'd only finished learning it the night before. So even though I'd been singing in public from the age of 10, to be singing a new song with a new pianist in a new pub, made me very nervous. But there was no backing out. The pianist played the familiar single notes of the intro and away we went.
"You ask how much I need you. Must I explain?
I need you, oh my darling, like roses need rain…"
It took me a while to notice that the noise of the pub had died down to a silence and that all that could be heard was a voice. It was mine. You could have heard a pin drop. There was silence until I sang the very last note. Then all hell broke loose. I got a standing ovation. Unbelievable. The crowd banged their bottles on the tables. They wanted more but I thought two songs were enough for my first time there. Always leave the audience wanting more, I thought.
I sat back down with Johnny.
"They like you in here," he said. "Especially the blonde I was telling you about."
"Is she here? I didn't see her."
"She's in a crowd over in that corner." Johnny indicated with his head but I couldn't see the face I was looking for. But another face caught my eye. Blonde with big, blue eyes, high cheek bones which were slightly flushed, possibly with make-up. It was the most beautiful face I had ever seen. I caught the woman's eye and smiled. She smiled back then looked away. Maybe it wasn't me she was smiling at.
"That's not the blonde from the Alfred," I said to Johnny.
"Who cares? She likes you, take it from me."
For the rest of the evening I would occasionally look over at the beautiful face and every time she would avert her eyes. She must be bloody blind, I thought. I was used to women looking back at me, making some sort of signal that they were interested.
We finished the night and I took Johnny home.
"Shall we go back there next week?" he asked.
"Yeah, if you like. It wasn't too bad."
"I'll meet you there as I'm not sure what time I'll finish work. Get the beers in and I'll be there as soon as I can."
Contact Your Memoir if you would like to buy The Twelfth Of Never as a paperback.