In my last post I mentioned that I was to have a role in WhitLit, Whitstable's first literary festival, taking place in 2014…
I can now reveal that, thrillingly, I am the festival's Memoir Director!
To say I am excited is an understatement. I am working with founder and co-director Victoria Falconer (formerly Annable), a passionate and energetic book lover with an amazing track record in event organisation and campaign management. Together with our team, we'll be putting something really special together. And what could be more special as a starting point for inspiration than our delightful hometown Whitstable – home of the free, the quirky and the creative.
We want to hear from you about what you'd enjoy at our festival, so please tweet us @WhitstableLit, find us on Facebook, or email info@whit-lit.co.uk with your thoughts. We have a survey that we'd LOVE you to complete. And we're super keen to hear from book club members. Apparently there are 65 book clubs in Whitstable and we're planning a special event for bookclubbers, so do get in touch if you fancy a bit of a book bash!
I am awash with ideas for memoir events but I'd love your input. So if there's a memoirist you'd love me to bring to the seaside, please let me know. My work as a ghostwriter and editor continues, I am currently working on 12 projects with some truly fascinating authors, some of whom may even launch their books at the first ever WhitLit. Exciting!
WhitLit will be a wonderful opportunity to gather the stories of those who live in and love our town, so keep your eyes peeled for the Whitstable MemMaps, coming soon (we want your secrets and stories – anonymous if you prefer) and a blog of Whitstable Faces – the town's characters revealed…
More news soon, so watch this space. Oh, and by the way, do you like our snazzy logo?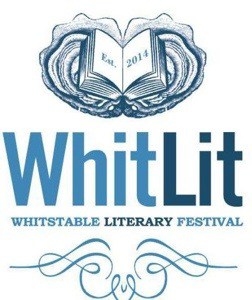 <a