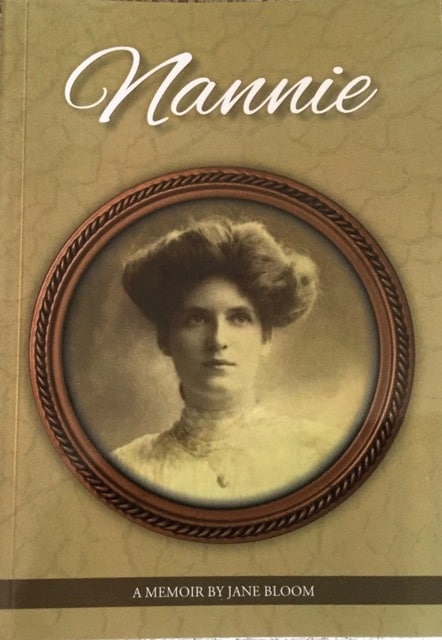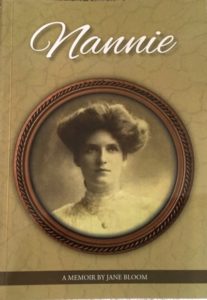 In September 2019, Jane Bloom from Framlingham, Sussex, self-published her book Nannie, a memoir by Jane Bloom. Jane and I had been working together, editing her work since February 2017. Here, she shares her experience and feelings on the process.
"In 1987 I joined a writing group. I have always enjoyed writing and the monthly meetings encouraged me to put pen to paper, or in later years, tap away on my computer. Because of the group, I channelled myself into writing something each month. I don't think I would have written if it hadn't been for the group. Like others my life is busy, and my family takes precedence. I am not a creative writer as such.
(Marnie says: I disagree. This book, especially the imagined pieces, are deeply creative!)
My writings are based on life's events. I don't have the imagination to write a novel.
(Marnie says: Typical Jane, so self-deprecating! You excel at memoir, Jane, and your prose is gorgeous, so celebrate what you can do and have done, not what you haven't. Yet!)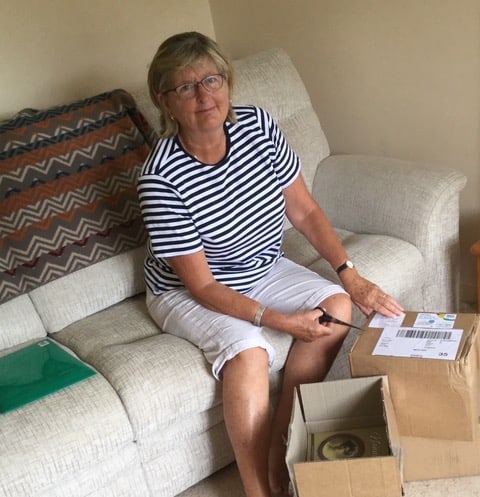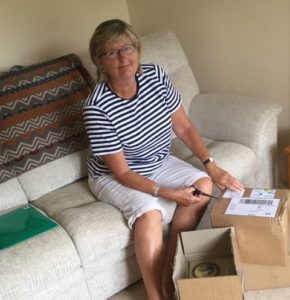 My family were not interested in my writing. As my daughter Selena said, "It is just your thing, mother.'
In particular, I had written about my grandmother and my life with her, also about her husband who died in the First World War. I had also woven in stories of my family, so they covered from the years 1944 when I was born to the present time. People who heard me read them always seemed to enjoy my stories.
Because of this I decided to put all my Nannie stories together and call it The Presence of my Grandmother. The problem was, although there was a mass of writing, there were also of a lot of repeated memories. I tried to get it all together, making chapters and putting my writings into some sort of order, but I failed. I then turned to the Internet to see if I could find anyone who could help me. After a few false starts I found Marnie Summerfield Smith. I asked her if she could help. After sending her my writings she said she could. Well, that was so fortunate for me. I don't know what I expected the outcome to be, a vague notion of a book? I was on an unknown journey, but I discovered with Marnie beside me I couldn't go wrong.
Because of family illnesses and commitments, it took longer than I had hoped which was no fault of Marnie's. I did go down to Whitstable to meet up with her and discuss the writing. It was lovely to meet her face to face.
In March 2019 I decided that I really had to get on with it. I read through numerous drafts, five, six maybe more. Marnie and I had long telephone conversations, deciding on the chapters and where to put the pictures, but most of it was up to Marnie. She was so patient, so professional and so helpful. Nothing was too much trouble. She suggested that my Memoir be called Nannie, a much better idea.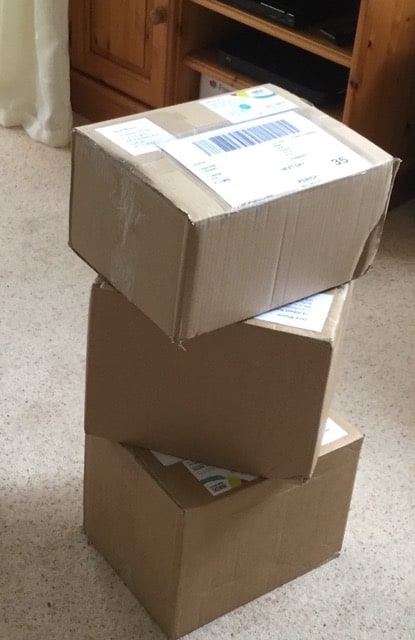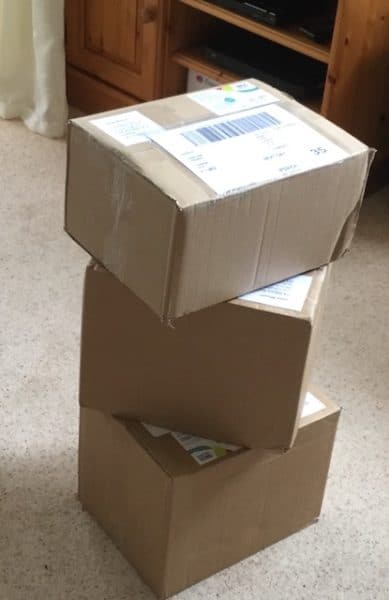 At last my book was ready for printing. The books arrived in three boxes and yes, I so was excited. When it arrived, well it was so beautifully put together with a lovely cover that I felt like a proper author. I had ordered 100 copies (60 more since).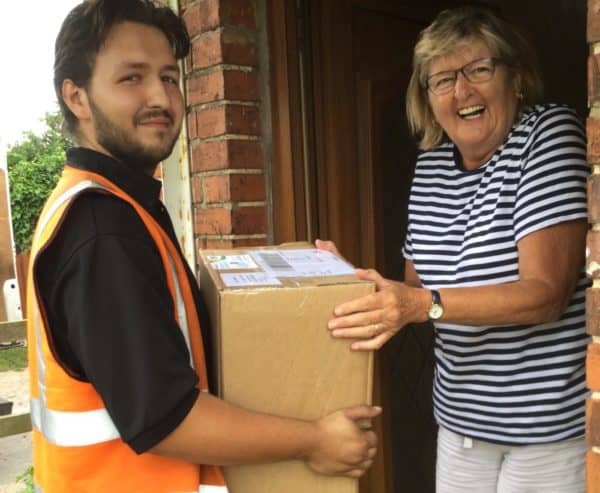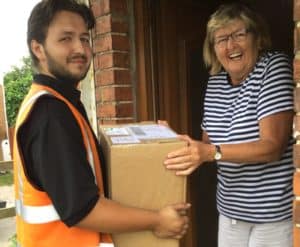 The first copy went to my good practical friend, 82-year-old Danny Staff in Thorpeness. He took a while a read it, telling me that he wanted to savour it. He pointed out that I had got some of the gardening details wrong, adding that I had bared my soul. Had I? He said that he was right in telling me that I should have faith in myself. "That was a good read, gal," he said.
So how to sell 100 copies? Roger at the post office said he would take some. He didn't want a commission, but asked that I sponsor him for a run he is doing next March (I always do sponsor him so that was fine.) Framlingham Stationers took copies with a commission of 1 per cent. Great excitement every time I went to the Post Office and Roger handed me another £10 or £20, same at the Stationers. I put the money back in the bank to cover the cost of my next book.
It was suggested I should have a launch. Oh my goodness, really? After a discussion it was decided to go ahead and to have the launch at The Crown in Framlingham in the restaurant room, which would be given over to me for the evening. It holds about 30 people, 40 people at a push and as I was only expecting about 25 people to come that seemed fine.
Gabriela who owned The Crown then suggested I used the Stables, the large room at the back of the hotel, for which she would charge a minimal amount, plus she thought I should have a few canapés, prosecco and elderflower cordial. I agreed to the refreshments, but I couldn't decide on the room. I went backwards and forward trying to work out which was the best option. Sometimes my husband Gary came with me, getting more and more exasperated at my indecision. I decided on the smaller room as I thought that people wouldn't stay, just come and go.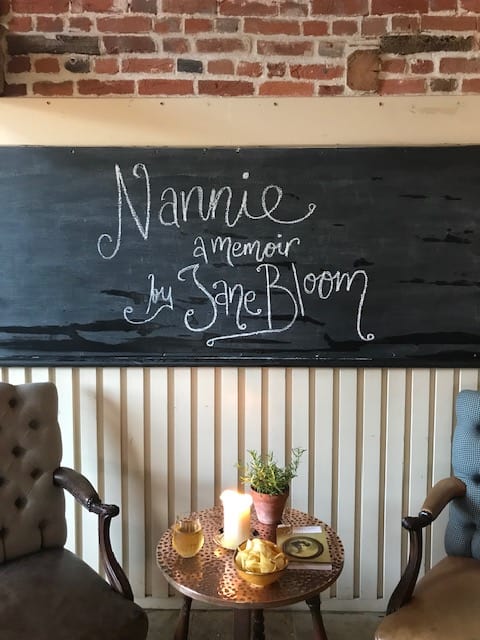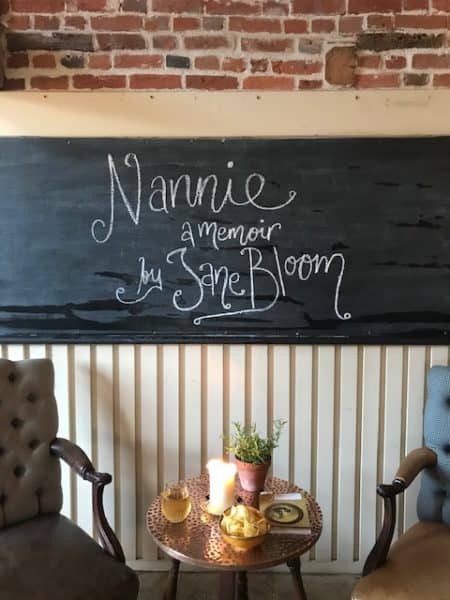 On the day of the launch, Gary collected Marnie from Ipswich station, Back in Fram, we popped into the Crown to show Marnie the room. Gabriela took us through to the Stables that she had set out with rows of chairs, strings of lights around the room, a small table with a candle and flowers on, with a chair either side for Marnie and myself. "I thought I would show you what you could have," she said. "I think this would be better."
Marnie agreed with Gabriela. I said people would rattle around in it, but it was agreed to use the Stables.
The launch was 7 until 8.30. I had had my hair done and even bought a new dress for the occasion. Gary, Marnie and myself loaded the books into the car and went up to the Crown at 6.15. Two people had already arrived. Whilst I was talking to them other people came through, far more than I had expected. My younger daughter came with her husband, also four of my grandchildren, two lifelong friends who came from Felixstowe, five fellow writers from the writing group, people from Albert Road, people I knew and people I didn't know. I was disappointed that two people who were important to me were unable to come to my launch. One was my son, JB who lives in Kent and had intended driving up but was working in Paris that week and Michael who had supported me with my writing so much over the years. In my talk I did mention that whilst I would have liked him to have been present at my launch, his reason for not coming was genuine as at that moment he was meeting his wife at Stanstead Airport.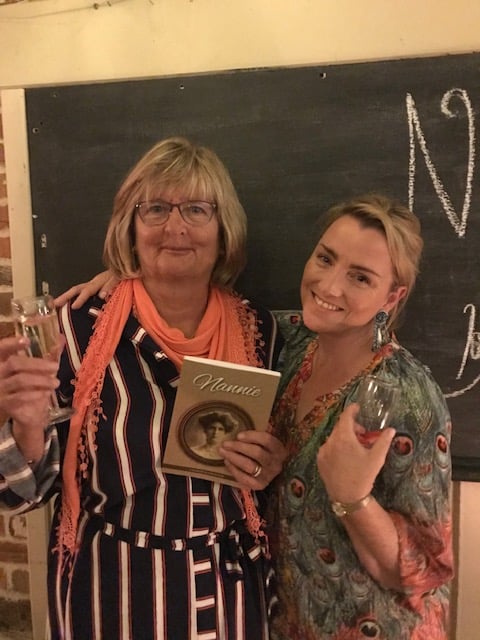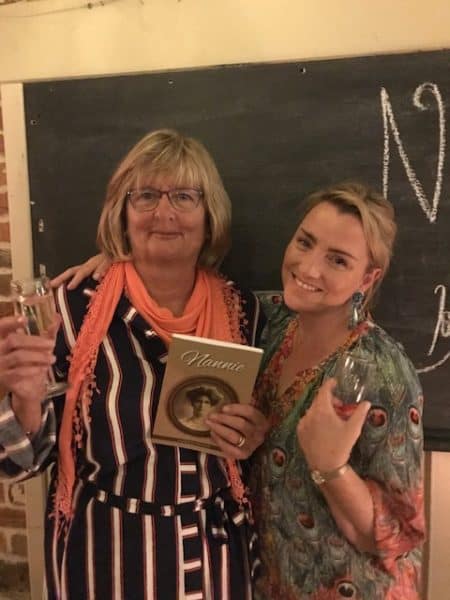 I was overwhelmed at the amount of people who came, nearly 70 in all. The rows of chairs were filled, people stood at the back and in the adjoining room.
One man gave me a hug and whispered, "It's time we had another famous person in Fram beside Ed Sheeran. And a woman too." I felt that was pushing it a bit.
Marnie then introduced me, complimenting me on the way I wrote, which made me blush. I read some pieces from the book that she suggested. I then answered questions. After which I did the book signing, whilst people mingled and chatted. I was told I had carried it off with great aplomb, but I was so nervous. For someone who can talk a lot and isn't bothered by being in front of people, on this occasion I felt like a rabbit caught in the headlights. Looking back, I realise that I was unprepared for the evening. I don't know what I had expected but it was amazing.
I was told I had handled the evening well, "Just like a proper author," and I was thanked for what was described as, "A really good do and a lovely evening,'
The next morning I woke in a cold sweat thinking about it. I did find it stressful, and the part leading up to it. I was quite poorly afterwards for some while, which I was told was due to stress.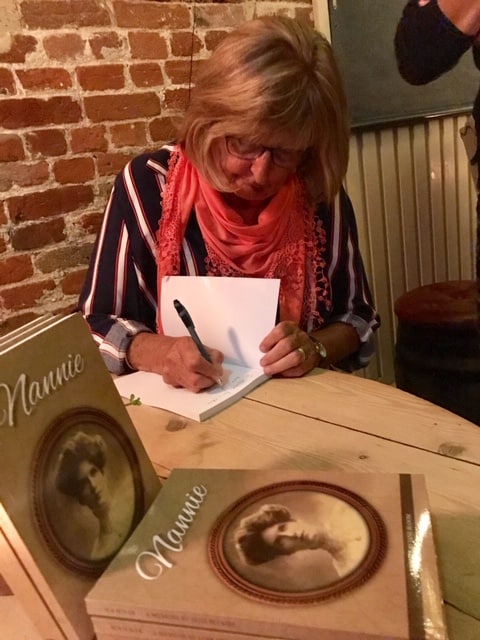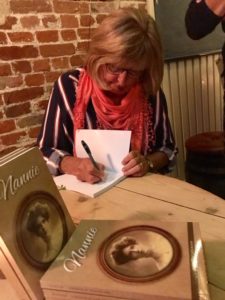 (Marnie says: Jane is a sensitive soul, which makes her a beautiful, delicate writer and deeply observant memoirist. The flip side of this is the anxiety she suffered during this process. I take my hat off to memoirists. It is a vulnerable and exposing process to write about yourself, to reflect on the past in an authentic way. To sell your art – in this case a book – to put yourself out there, is extremely courageous. Jane deserves all her success not only for her talent, discipline and commitment to writing, but for her bravery and for pushing through her self-doubt.)
My memoir continues to sell well, I re ordered another 30 before the launch and as they have sold, I have had another 30 copies printed off making it 160 so far.

I have received some lovely cards and thank you notes, plus flowers and wine to celebrate.

I gave a copy to a lady, who had recently moved onto the road, saying, "It is free, but if you like it I'll have a tenner."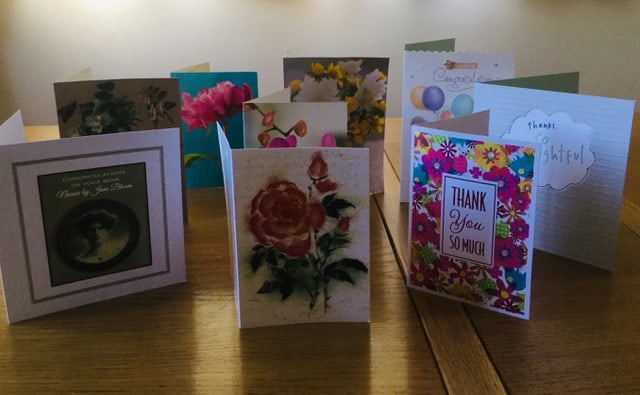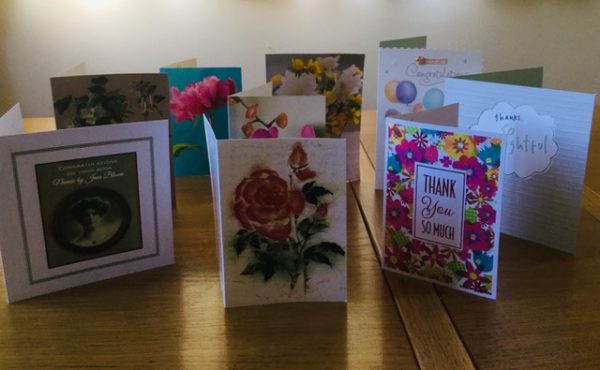 Three days later I got a card through the door, with £10 in. She thanked me
for it, saying she had found it engrossing and couldn't put down until she had finished it, adding she was pleased to pay me for it. Another lady who had lived in Fram sent me a beautiful card thanking me for writing my memoir. When I saw her a few weeks later, she hugged me, tears in her eyes, saying how moving and evocative she had found it and that she was going to pass it on to her six brothers and sisters to read. I suggested that she kept her copy and told her family to buy their own.
Yesterday a local lady stopped me in the Coop.
"I bought your book," she said. My heart stopped. "Here it comes," I thought, waiting for a negative comment.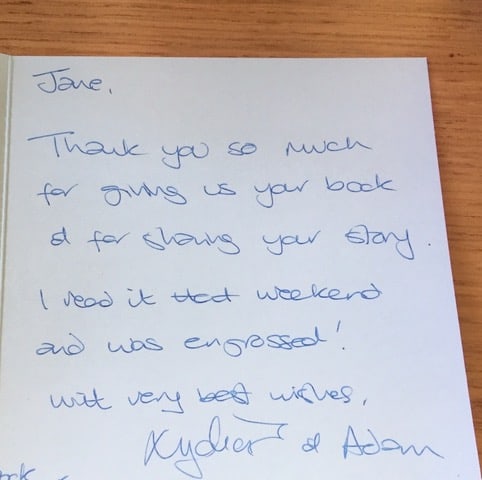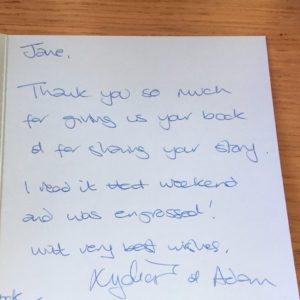 "I loved it, bought back so many memories," she continued. "I can so identify with what you wrote. Thank you."
On the way home, a lady who had lived in London and moved to Fram stopped me.
"Such a lovely book, I wanted to read it straight off, but as I wanted to make it last, I paced myself. Thank you."
I should be pleased, but going public about my life, I still find it a bit embarrassing. It is just a bit of writing, but it does seem to have touched a nerve in people, so a big thank you to Leiston Writers and Marnie Summerfield Smith. It wouldn't have happened without you.
I wouldn't have managed to do it (the launch or the book) without Marnie. If you know the story of Dumbo who thought he could not fly without holding the feather in his trunk, well I call Marnie my feather. I don't what I expected when I started my Memoir journey, but the outcome has surpassed anything I could have imagined. This is all down to the wise help and professionalism I received from Marnie. Many thanks, dear friend."

You can contact Jane to buy copies of her memoir via the Facebook page Nannie, A memoir by Jane Bloom here.

Jane Bloom, October, 2019.