Sometime over Christmas, my husband and I watched the multi-award-winning psychological drama The Lost Daughter. If you've seen it, you know. If you haven't, I urge you to watch it. It is spellbinding.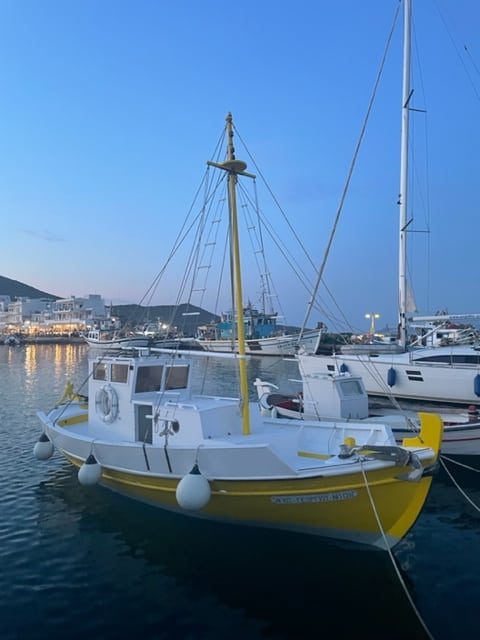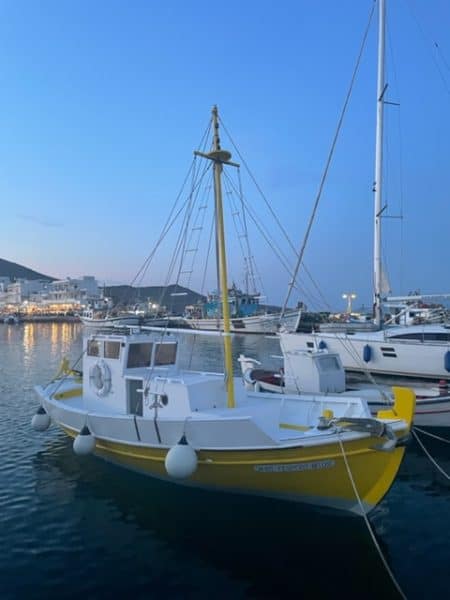 The film stars Olivia Colman and Jessie Buckley. The screenplay is based on the fourth book in the Neapolitan quartet series by Italian novelist Elena Ferrante (not her real name). Maggie Gyllenhaal adapted and directed it. Colman, Buckley and Gyllenhaal were all nominated for Oscars. The film is set on the Greek island of Spetses and after we'd recovered from sitting on the edge of our seats for two hours and one minute – and lured by the sight of Colman bobbing about in crystal blue waters –we booked a holiday to the Greek island of Paros. I'd been in 2007 and have been wanting to return ever since.
I rarely read novels, but I thought it would be interesting to read The Lost Daughter while on holiday and immerse myself in the novel that inspired the trip. It's the last in the quartet, so I wanted to read them all and was thrilled to find the full set in my local chazza for £1 each. I was off and running. But as you may know by now, novels aren't my natural fit. Those that I do read and enjoy (one every few years, perhaps) leave me feeling: Yes, it was great, but it would have been so much better if it were true!
(And in fact, I think of my three favourite novels – Brideshead Revisited, The Great Gatsby and The Remains of the Day – as if they were true.)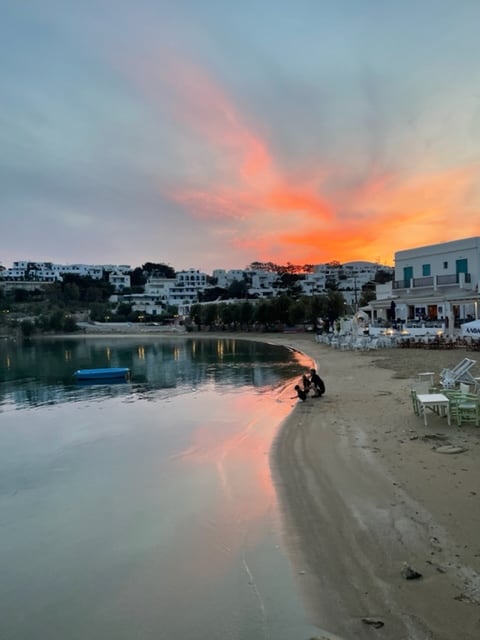 I got going with the first book, My Brilliant Friend, and at first I really enjoyed it. Beautiful writing, interesting characters – a lot of them. I was invested in the main characters Elena (the narrator) and her best friend Lila. Theirs is an intense relationship.
But then my enjoyment waned, the characters started to annoy me. Curiosity and dreams of reading on a Greek beach dragged me to the end. By the time I got there, I was flummoxed. Was that it? Yes, it was. More Elena and Lila? No thanks.
I nearly always finish memoirs if they're not satisfying, but novels don't get a free pass. Too many great memoirs in the world, not enough time. So, I abandoned my plan and dropped the four books into another local charity shop.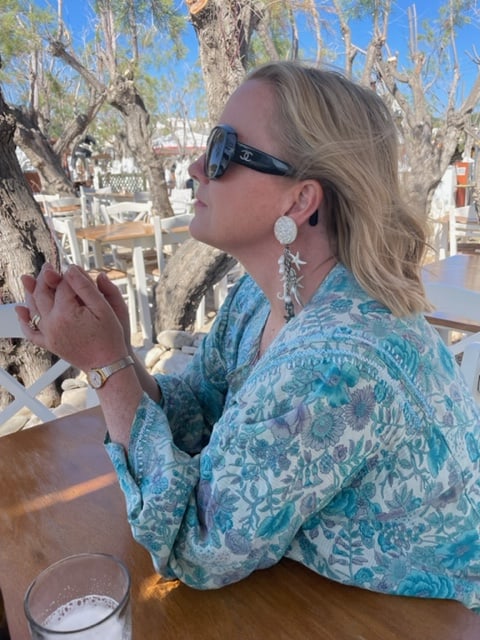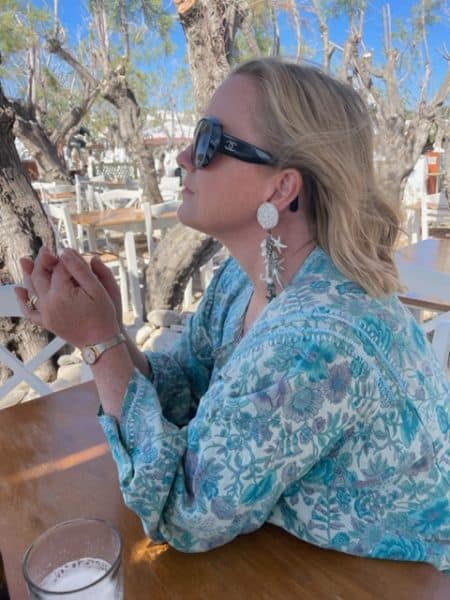 I needed holiday reading of course, so I bought a memoir that had been recommended to me by my friend, the writer and puppy farm campaigner Janetta Harvey. The memoir was These Precious Days, a lovely hardback by Ann Patchett.
Packing was underway when I realised that disaster had struck. My husband had bought me a beautiful bookmark for Christmas, and I'd left it inside My Brilliant Friend. I was gutted. It was a sweet, personalised bookmark made to look like a library card that he got from Etsy. I contacted the charity shop, but Ferrante's books are popular, and they'd already been sold.
And so that's the story of how I tried to read a novel and how The Lost Daughter became The Lost Bookmark. If you've recently bought My Brilliant Friend from Whitstable's British Red Cross Shop, perhaps you'd have a look inside for me.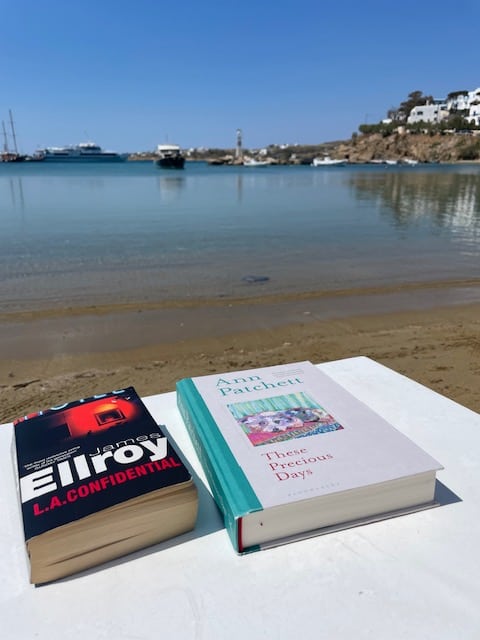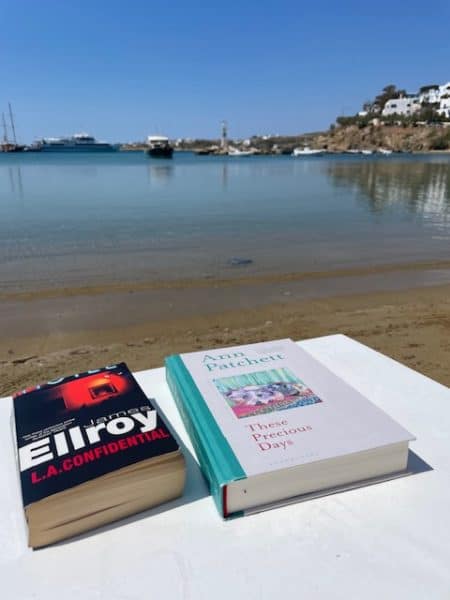 Thankfully, it is also the story of how I discovered Ann Patchett. A writer of whom I was not aware and who is simply incredible. I finished These Precious Days, read it again immediately, then bought two more of her non-fiction books: This is the Story of a Happy Marriage (a collection of essays) and Truth and Beauty – the story of Ann's friendship with the poet and memoirist Lucy Grealy. I had to read them on my Kindle App on my phone, far from ideal, but needs must. And no bookmark needed.
As we descended into London Gatwick, I finished the story of Ann and Lucy's beautiful friendship with tears in my eyes. Heartbreaking and sadly, all true. Theirs is a story that will stay with me forever.
Unlike with Elena and Lila, I couldn't bear to say goodbye to Ann and Lucy. But sadly, that's exactly what I had to do.