Happy New Year to you all!
I made a few resolutions and one of them was to blog once a month, so here we go for January with news of a very exciting event…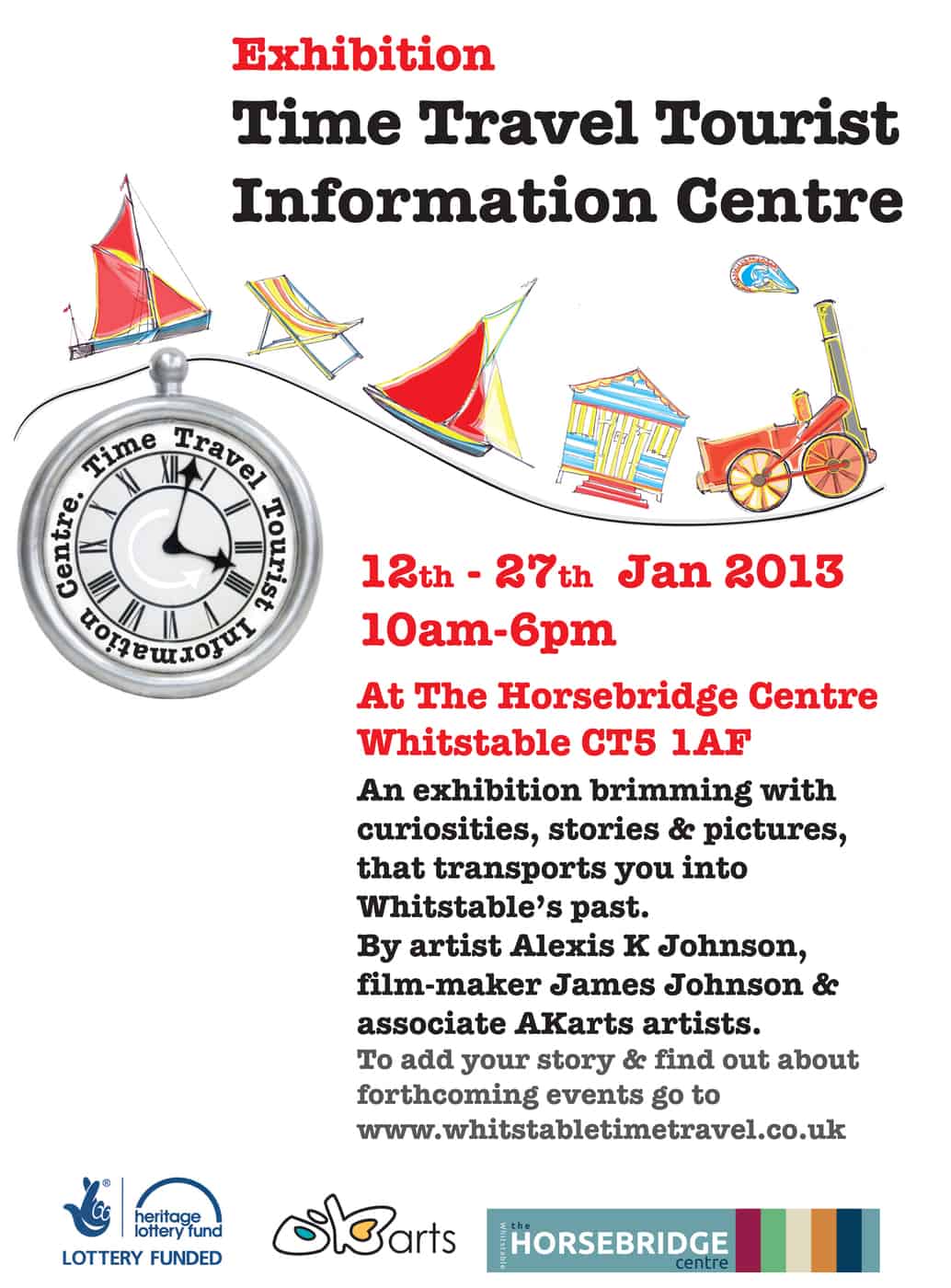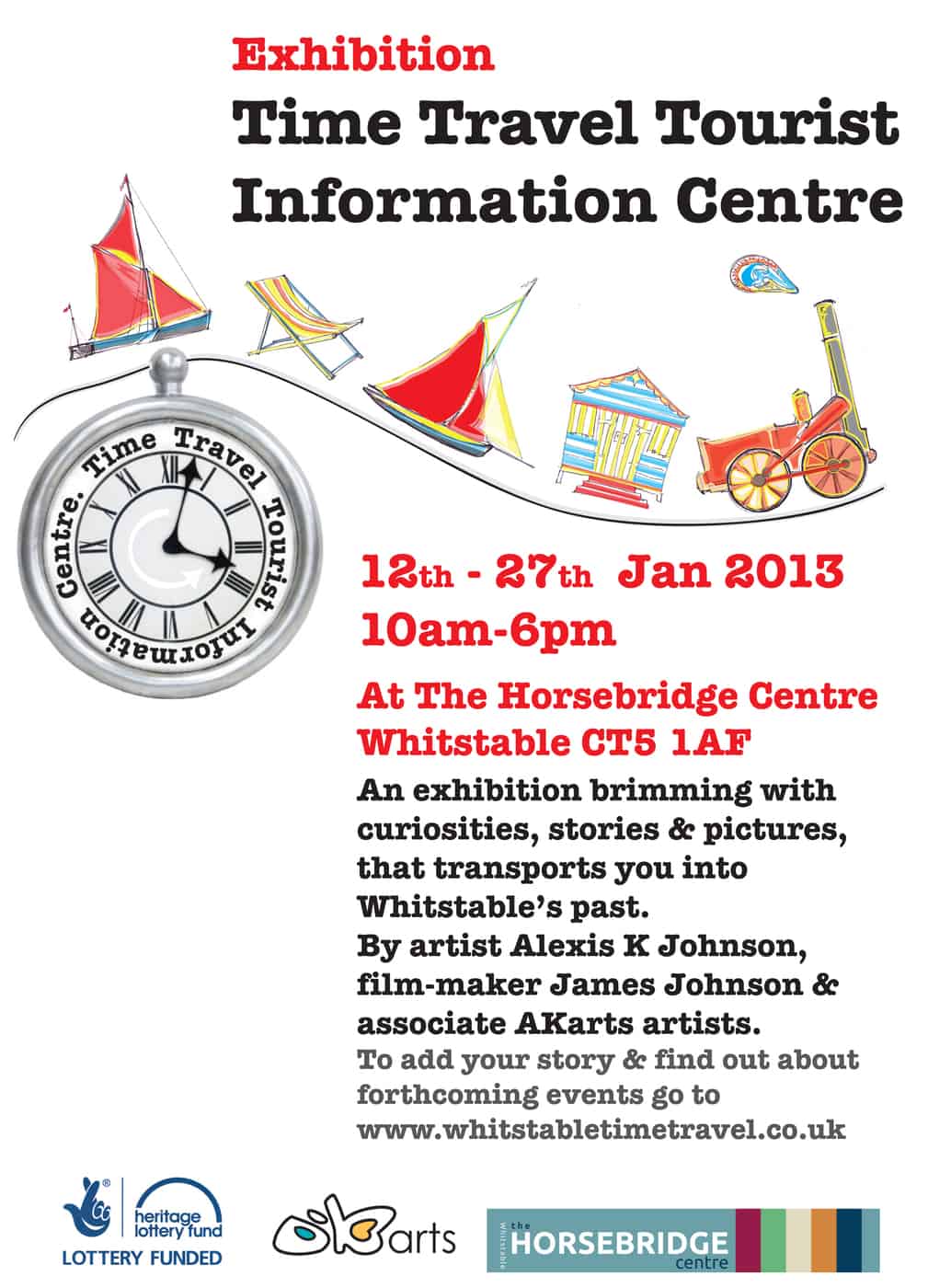 From January 12 to 27, 2013, Whitstable's Horsebridge Arts and Community Centre is being turned into a Time Travel Tourist Information Exhibition with opportunities for you to enjoy the Whitstable memories of others and contribute your own special memories and stories about our wonderful town. The project invites locals to donate family photos, objects, pieces of creative writing, or stories documented on film. There are time travel guides explaining the history of the town, a pop-up theatre with moveable 2D cast and paintings and photographs focusing on Whitstable's maritime history.
The project would especially like to hear from you if you have relatives or knowledge related to local Oyster, fishing, diving & maritime trades, or memories of seaside adventures from the 1950s to the present day.
I am a native of Whitstable having been born in St Helier's Nursing Home in Castle Road (in 1975), now a private residence. I might contribute my story of returning there to work. I was a home help for the elderly when I was at Uni (1998) and the couple I cared for there were very interested to hear that I was born in their living room!
Or maybe I'll speak about my memories of 1982. This was when an old church in Whitstable High Street was being refurbished and turned into our lovely theatre, the Whitstable Playhouse. Oh the dust! My Mum, Maureen Smith MBE, was on the original fundraising committee and the jumble sales that took place in what would become known as the Lindley Room (the bar) were magical to me. They gave me a lifelong love of rummaging! I am now a vintage collector and love the stories that come with some of my pieces.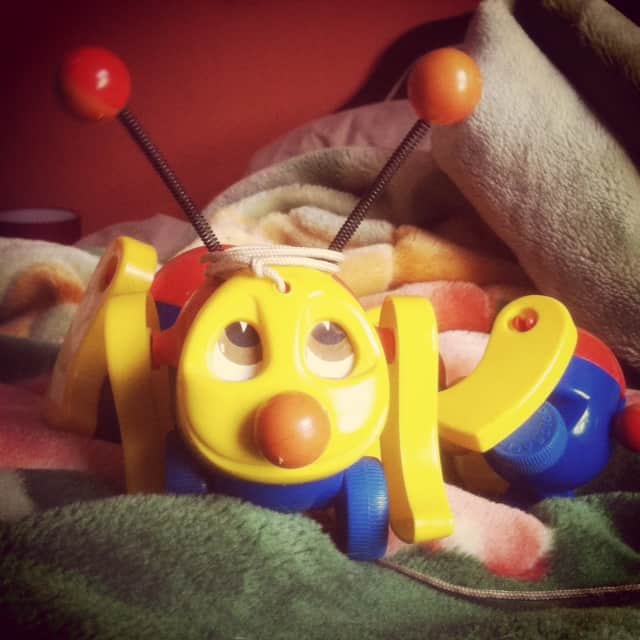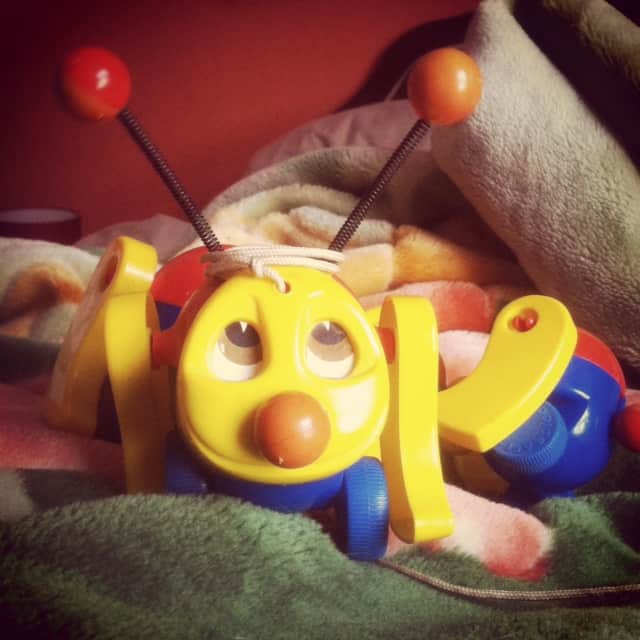 Above is Lindley, a toy I bought at one of those jumbles! Named after The Lindley Players who own the theatre…
I had some of my very happiest times at the Playhouse from watching every play and pantomime from the night of opening (A Voyage Round My Father, attended by its writer Sir John Mortimer CBE) to performing there myself countless times. A highlight was playing Snow White in the annual pantomime. 1992 I think? I'll have to look it up. I now produce an annual event at the Playhouse. Called Dance For Peace it raises money for my small fundraising organisation, Trust Sulha, educating Afghan refugee children in Pakistan.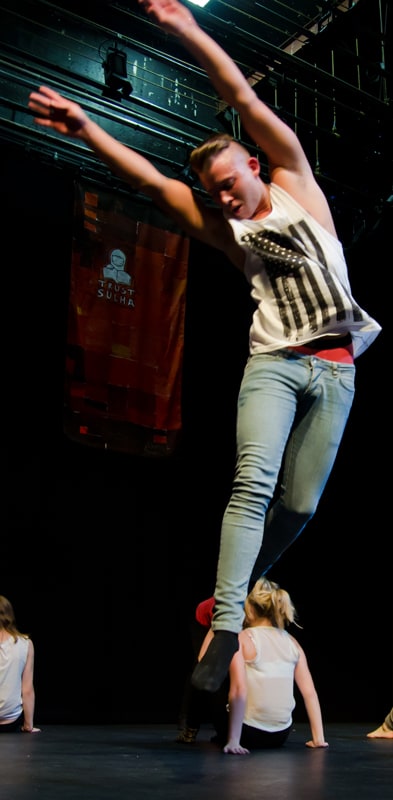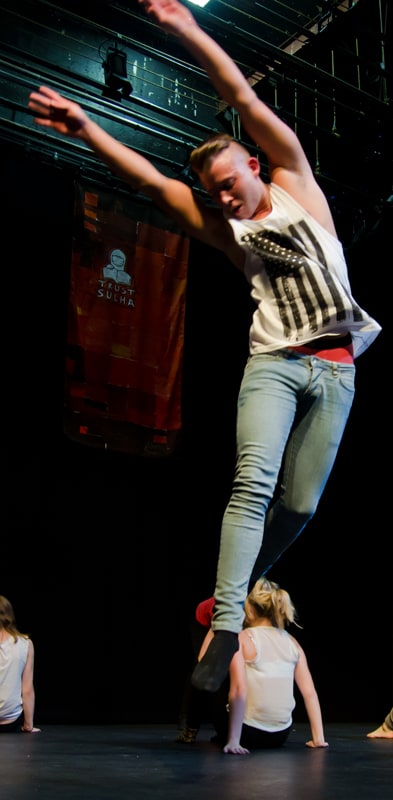 One of the performers rehearsing for Dance For Peace…
Or maybe I'll contribute a memory of my childhood home in Station Road, one of the first council houses to be built in the world. My brother is now converting this house into flats and my husband and I are moving into the garden flat this spring. I'm going home! Recently I typed up the diaries of a 92-year-old Whitstable lady. As a child she and her friends would visit the builders there in Station Road as they constructed those council houses. They took potatoes and cooked them in the builders' fires. What a coincidence that she should do this on a place that eventually became my beloved front garden, where my mother grew my favourite Blue Moon roses (the scent!) and I played with my Flower Fairies.
Here's a picture of me in the back garden with my beloved swing, Sad Sam toy (remember those?) and security blanket…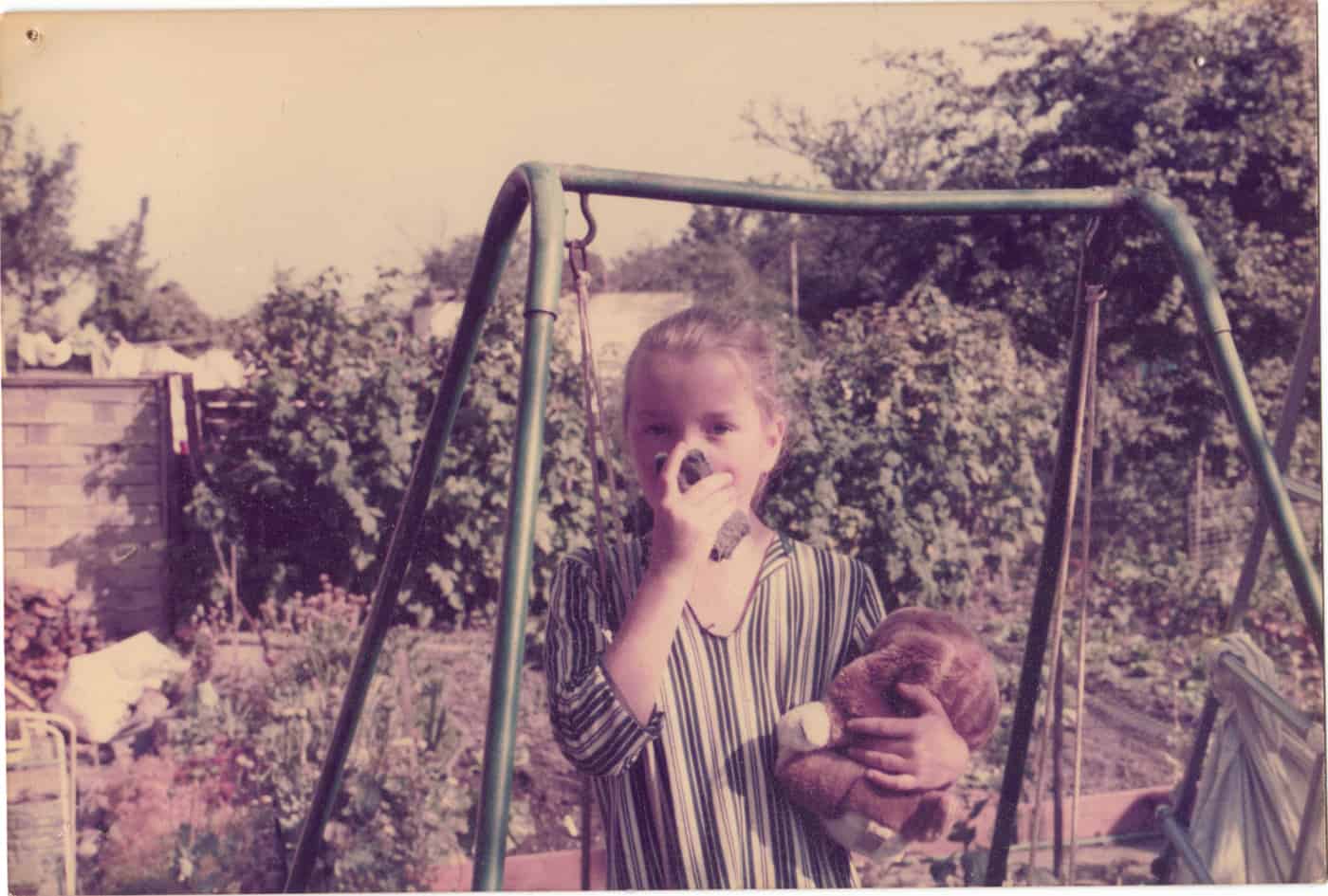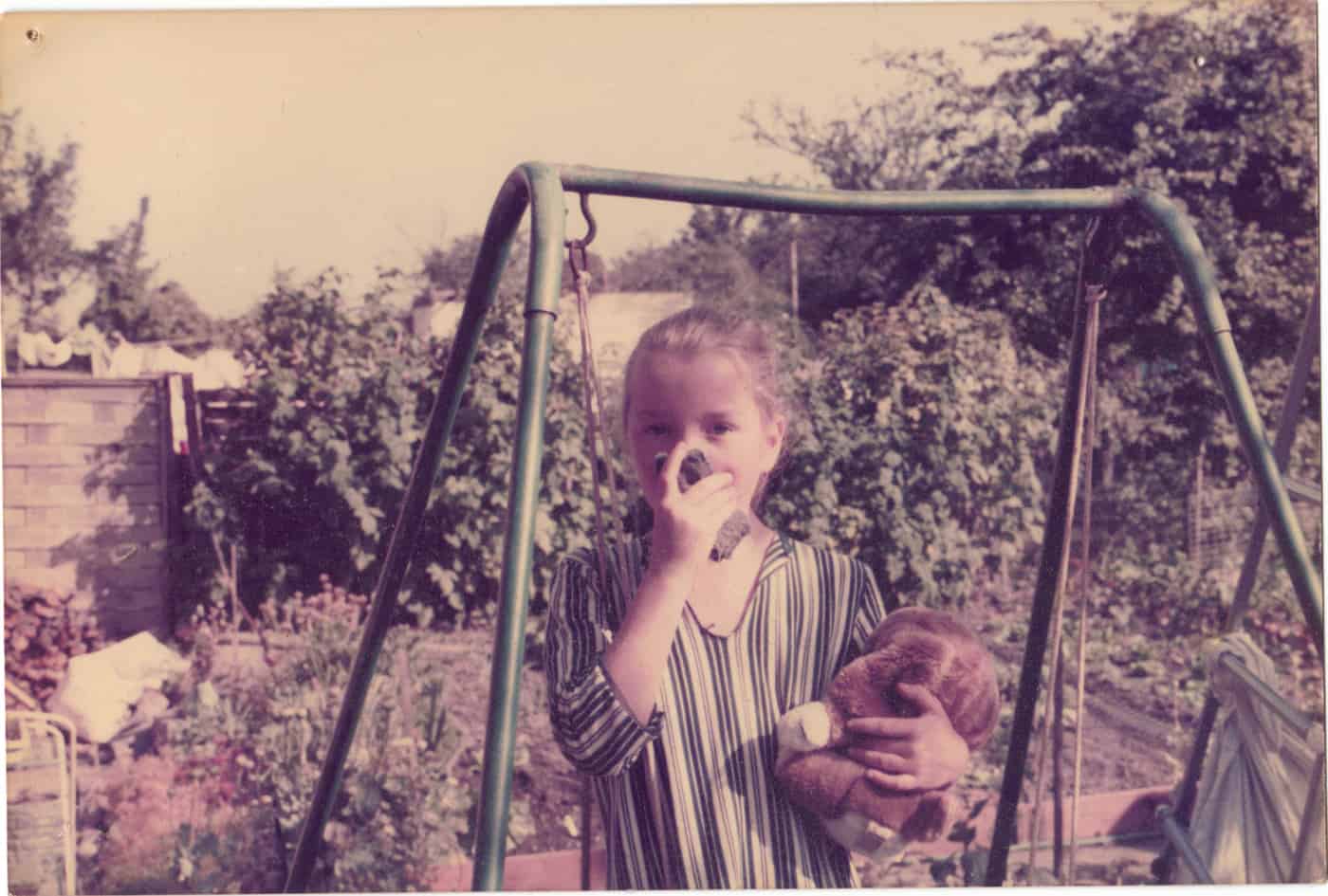 I have so many happy memories of Whitstable. How will I choose?
And what about you? Have a think and I hope to see you there!
Marnie
P.S. Don't forget! The Horsebridge is a charity and our town needs it. If you visit the exhibition, please leave a donation.