Memoir Writing Day Retreat
April 16th, 2023
10.30am to 4pm - £60
Would you like to escape every day life and spend a whole day working on your memoir?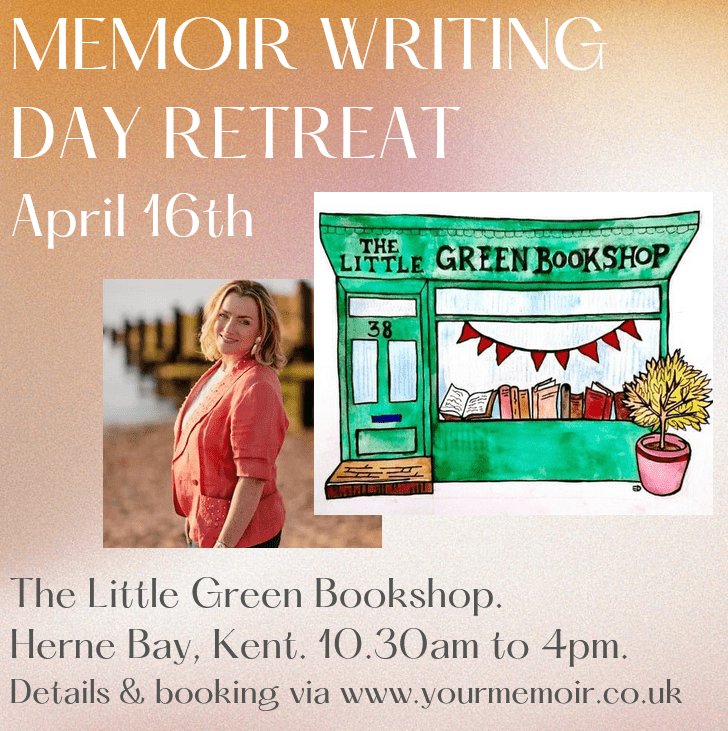 Join me inside Herne Bay's beautiful independent The Little Green Bookshop, on the north Kent coast.
We'll be a small group, gathered together in this cosy space from 10.30am until 4pm.
We'll introduce ourselves and our projects for those that wish to, and discuss any issues you might be facing with your projects. Then we'll get our heads down and write!
Before we break for lunch at 12.30, we'll share how we're getting on and what we'd like to continue with in the afternoon.
Then we'll break for an hour and a quarter to give us plenty of time to enjoy a stroll along the beach, have some food, maybe an ice-cream, blow away the cobwebs and rejuvenate our writing brains.
Or you can stay indoors with your packed lunch if you prefer.
We'll meet again at 1.45pm for another writing session, followed by a discussion of how we want our memoirs to develop after the day retreat is over.
Time to write with an expert on hand and no interruptions! You might even squeeze in a bit of book shopping!
The cost for the day is £60 and we'll chat before over email so I know where you're at and can give you a personalised experience. Looking forward to seeing you there. Contact me if you would like to chat before booking.
The bookshop is petite and spaces are strictly limited. Don't delay, book your space now