Zuihitsu Classes – Japanese style memoir
The Mind Writes What It Is.
In March 2018, I am starting monthly Zuihitsu classes here in Whitstable. Here is an overview of this liberating and juicy way of writing and a blog post with further information here.
Zuihitsu is a genre of Japanese literature. Directly translated, the word Zuihitsu means follow the brush. When we are thinking about life writing we can feel overwhelmed by the material. A common question is: I have my whole life to write about, where do I start? In Zuihitsu we pick up our pens and follow them to see where they go. We pick a thread and follow it. We take a contemplative walk through the mind. That said, while our musings can be philosophical, they can also be daft and irreverent! In the Japanese tradition, our writings may never be seen, which gives us great freedom. Or using Zuihitsu may lead us to harness and reveal the story that burns inside us.
For these classes, I have decided to combine Zuihistu with Saijiki, the Japanese art of creating a year long journal of personal reflections combined with the things we observe and are inspired by in nature. As a group we will meet each month and spend time writing, drawing, scrapbooking - to create something beautiful and personal that encapsulates a year of our lives.
Visit instagram.com/zuihitsu_saijiki/ to explore further and use the Contact Me page if you are interested. Providing we have space, you can join us at any stage during the year.
We will be meeting at the Whitstable Umbrella Café, 7.30 to 9pm on the third Tuesday of each month, starting on March 20th.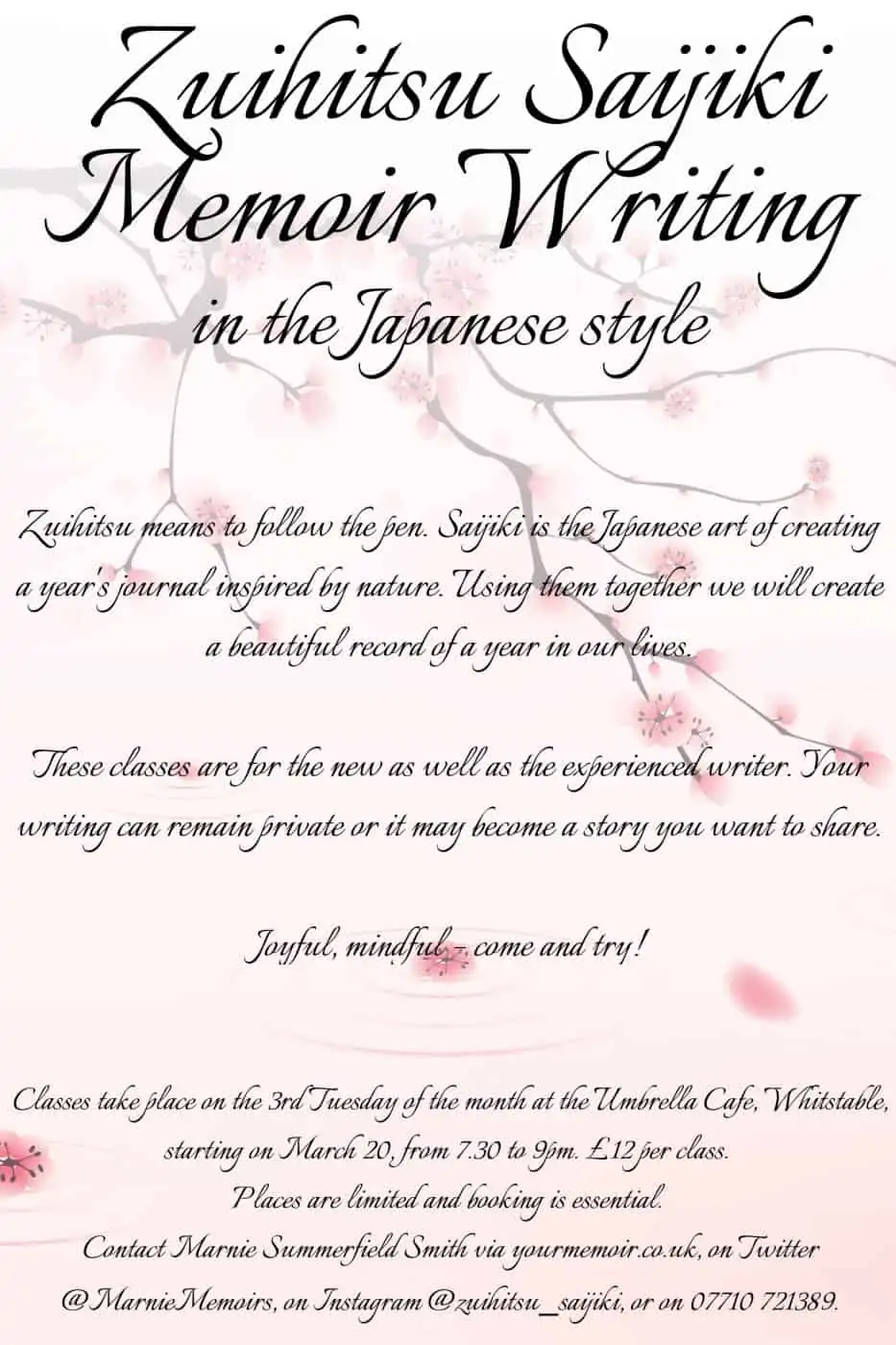 Marnie conducted my interview at the Whitstable Book Festival with skill and sensitivity. She was a good listener and took a genuine interest in her subject. We had a capacity audience for what was a very successful afternoon.
Read More

→